Type and tea towels
Type and tea towels
New Core Characters tea towels: getting hands-on with Type
OPP's latest product provides practitioners and clients with an instant reminder of the dominant Core Characters behind each MBTI Type.
Core Characters help to explain and enhance our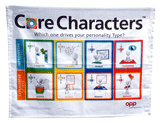 understanding of MBTI Type dynamics, especially the role of our dominant functions.
If you want a colourful, practical reminder of the dominant Core Characters, take a look at our latest product – Core Characters tea towels.
Ideal for company kitchens, or to use as a visual prompt at training events, the Core Characters tea towels help to make MBTI Type and Type dynamics more accessible.
You can buy them now from the OPP shop.