The Emotional Judgment Inventory Manual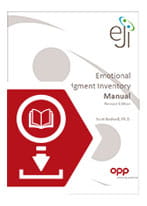 EJI001e
The Emotional Judgment Inventory Manual eBook
In-depth guide to the structure and application of the EJI the EJI Report
Understanding how individuals respond to emotional cues is central to the concept of emotional intelligence (EI). The eBook format is ideal for working in virtual situations, delivering a pdf direct to clients.
Taking the EJI as a measure of emotional intelligence, this comprehensive user's manual guides practitioners through the seven concepts measured by the tool:  Being Aware of Emotions; Identifying Own Emotions; Identifying Others' Emotions; Managing Own Emotions; Managing Others' Emotions; Using Emotions in Problem Solving; and Expressing Emotions Adaptively.
The manual provides reliability and validity information for the EJI, and it describes the process the test author used to construct and calibrate the tool to industry standards, and summarises key research linking emotional intelligence (as measured by the EJI) to job performance.
The Emotional Judgment Inventory Manual – key features
The theoretical background to emotional intelligence
A detailed guide to understanding and interpreting the EJI Report
Administration and scoring of the EJI
Notes on norms and statistics
Information about reliability and validity
The EJI's relationship with other EI constructs, and with tools including the MBTI and FIRO
Emotional intelligence and  job performance in such areas as leadership and sales
The EJI webinar and manual package
Need a little additional support getting started with the EJI? Our 60 minute webinar will guide you through its use. Buy the EJI Manual bundled with the training webinar Developing Emotional Intelligence using the EJI.