Fixing the Foxes: stress, Leicester City, and personality Type
Posted 06 May 2016 by John Hackston, Head of Research at OPP and Paul Wilson, Learning Consultant at OPP
Football and hyperbole are no strangers, so the achievement of Leicester City in winning the English football league may not quite be the greatest triumph ever in modern times. It is, though, probably the most inspiring underdog story we have seen in British football. Twelve months ago Leicester escaped relegation from the Premiership by the skin of their teeth, and by the start of this season their manager, Claudio Ranieri, was the bookies' favourite to lose his job. The same bookies were offering odds of 5000 to 1 against Leicester winning the league, yet somehow, nine months later, they triumphed.
So what happened? And if you (like one of the authors of this article) are not a football fan, why would you be interested? Well, clearly there are lessons here to be learnt about the importance of teamwork and shared reward (pizza and singalongs in the case of Leicester) compared with the big salaries and egos of other teams. Much better to have a star team than a team of stars.
As an organisation whose tools are often used to support team development, you might expect us at OPP to pay particular attention to importance of teamwork in Leicester's success, but something else really caught our attention – the role that Claudio Ranieri played in managing the stress levels in his team. And this has lessons for how we ourselves manage our stress, and the stress levels of our teams.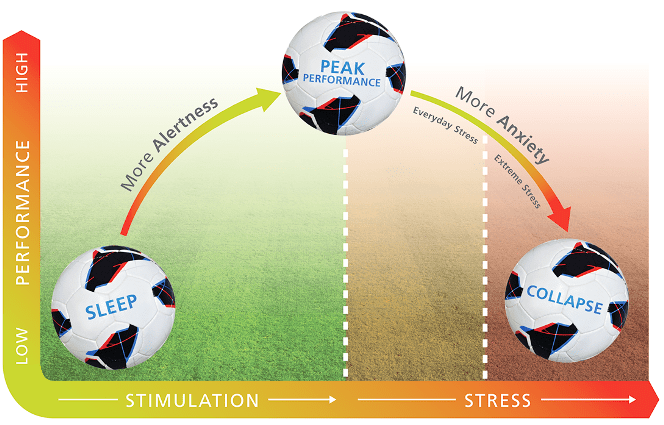 We all have some stress in our lives. Indeed, a degree of stress is useful; we all need some stimulation in order to perform at our best. Too much stress however, and our performance suffers; extreme stress can result in extreme behaviours and, eventually, collapse. We've known this since Yerkes and Dodson pointed it out in 1908, if not before.
For a football team, a big source of stress can be the expectations of fans, managers and owners. At the start of the season, this was less of an issue for Leicester than for most other Premiership teams; little was expected of them, and the struggle to avoid relegation the previous season had given them a sense of achievement and helped them to bond together. Of course, as they won more and more matches, expectations mounted and the pressure increased;
many commentators
expected Leicester to stumble and fall away. There is plenty of precedent here; Steven Gerrard '
letting it slip
' in 2014 or Kevin Keegan's
infamous 1996 rant
are two prime examples. So how did Leicester, a relatively inexperienced team led by a manager who had never won a major title, deal with the sort of pressure that had finished off other contenders?
Looking back, it seems that Claudio Rainieri used a lot of the advice that we've suggested in our Quick Guide to Everyday Stress (of course, we're not claiming any credit here, but still...). As manager, he encouraged players to relax, and role-modelled this himself; unlike some managers there was no throwing of crockery against the changing-room wall. As full-back Danny Simpson told Sky Sports, "It's because of the manager. He's very relaxed. It was 0 – 0 at half-time at Watford and all he told us was to keep going. He told us to keep doing the right things and it will come."
By shifting the focus from results to effort and teamwork, and by concentrating on one game at a time, Rainieri made setbacks acceptable, as long as the attitude and performance was right. In April, in a key game, Leicester dropped points to West Ham and more importantly lost star player Vardy to a two game suspension. Rather than blame the referee and get distracted, as many other managers would have done, Ranieri continued his focus on what was coming up and what was within his control, not what was behind him. As he commented to Sky Sports: "We knew there was a suspension and we were very focused – no problem. Not at all. We keep going and think about the next game against Swansea. I don't want to put my energy into this case. My focus is only on Swansea."
Two teams that do not seem to have coped so well with stress are Tottenham Hotspur and Chelsea. Tottenham threw away a 2 – 0 lead to draw with Chelsea – a result that gave Leicester the title. Chelsea, for their part, seemed to spend much of the season in the initial, under-stimulated part of the stress cycle, despite their star-studded line-up. Spurs, under huge pressure to win in the final game, collapsed in a welter of what sports commentators like to call 'unsportsmanlike behaviour' (stamping, slapping and eye-gouging. Nice.).
As individuals, and for those of us who aren't football fans, what can we take from this? Ranieri maintained a hopeful outlook and took a realistic approach. He kept things in perspective and didn't react badly to poor results, instead focussing what he and his team needed to overcome setbacks. Above all else, he helped his team to enjoy football – to enjoy their job.
This is all good advice, but of course once the pressure starts to buld, it is not always easy advice to follow. We've talked more here about how each of us, with our own particular personality Type, can learn to work with the everyday stress that we all face. And while the odds may not be 5000 – 1 against us achieving success, understanding something about ourselves and how we react to stress can help make the odds better.