Career Search Strategies eBook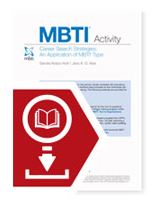 MB7001e
Career Search Strategies exercise eBook
MBTI Activity Series exercise: exploring how to optimise your career search strategy
This exercise is designed to help participants choose career search strategies that capitalise on what they typically enjoy doing and compensate for what they dislike doing. The eBook format is ideal for working in virtual situations, delivering a pdf direct to clients.
The exercise can be conducted in groups or individually and allows people to identify the helpers and hindrances of each preference in relation to their career search.
MBTI Activity Series exercise - eBook.
Applications: career development
Type preferences studied: all preferences
Time required: 60 minutes