Team Effectiveness Analysis eBook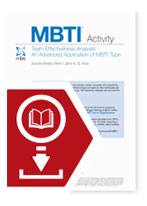 MB7015e
Team Effectiveness Analysis exercise eBook
MBTI® Activity Series exercise: analyse your team's effectiveness using type dynamics and problem-solving
This group exercise is designed to enable a team to use type concepts to analyse their working relationships and their task distribution, using type dynamics and a problem-solving model. The eBook format is ideal for working in virtual situations, delivering a pdf direct to clients.
This group exercise also points to potential gaps in a group's decision-making process.
MBTI Activity Series exercise - eBook.
NB This activity requires participants to be familiar with the concepts of type dynamics. If the team has been introduced to type dynamics previously, you may find it helpful to briefly review the concepts before starting the exercise. If the team has not been introduced to type dynamics, then add extra time to provide a brief overview of the topic at the beginning of this activity.
Applications: team building, leadership development
Type preferences studied: dominant functions in S, N, T & F groups
Time required: 45 minutes