Change Process eBook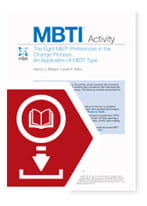 MB7002e
Change Process exercise eBook
MBTI Activity Series exercise: understanding and dealing with change
This exercise is designed to help participants recognise and own their individual needs during change, and stimulate recognition and appreciation of differences. The eBook format is ideal for working in virtual situations, delivering a pdf direct to clients.
This exercise also provides data for developing strategies to meet the needs of different people.
MBTI Activity Series exercise - eBook.
Applications: understanding and dealing with change
Type preferences studied: all preferences
Time required: 30 minutes