Introduction to Type and Learning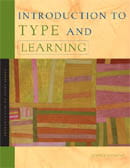 MB6187
Introduction to Type and Learning
Take control of learning through the MBTI® framework
Gain insight into learning styles and key learning strategies.
Why it's useful
People learn in a multitude of ways – some by seeing, some by listening, and some by doing. No matter what your learning preference, this insightful booklet will help you make the most of your learning opportunities.
Author Donna Dunning introduces key learning strategies and learning style insights. Designed for adult learners who want to take control of their learning, it provides a comprehensive guide for enhancing learning effectiveness. Whether you are returning to school, learning on the job, or developing skills and knowledge related to your personal interests, the booklet will help you identify your learning style and develop and apply strategies that suit your learning preferences. If you facilitate the learning of other adults, it will help you identify your teaching style and show you how to accommodate the learning preferences of others.
Who it's for
Introduction to Type and Learning is for educators and trainers wanting to identify their own teaching style and help others boost learning performance, take on board new information and develop skills. It is also aimed at adult learners looking to take control of the learning process.
What's inside
An overview of basic and advanced MBTI type preference concepts
Top 10 learning strategies relevant and useful in many different learning situations
Personality type and learning styles for each of the eight MBTI type preferences
Learning styles of the eight MBTI four-letter types based on the dominant function
Concrete application suggestions for accommodating and appealing to all eight of these learning styles
Related products
Apply MBTI insights to other common challenge areas.