Introduction to Type and Emotional Intelligence (English)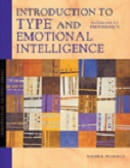 MB6169
Introduction to Type and Emotional Intelligence
How type relates to an emotional intelligence framework
Emotional intelligence (EQ) is a term used to describe a person's ability to control impulses, show empathy, and persist in the face of obstacles with resilience and flexibility.
Developing EQ can enhance leadership ability, enrich relationships, and extend influence. This new booklet explores the connections between personality and EQ, and provides specific actions for EQ development for each of the 16 types.
Related products
Apply MBTI insights to other common challenge areas.