Whole Type: flip-a-type-tip speed dating exercise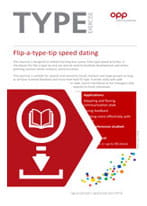 JT0929e
Whole Type: flip-a-type-tip speed dating exercise eBook
Type exercise: how to use whole type to enhance communications. This exercise can be used in a range of small, medium or large group settings.
This interactive type exercise is particularly useful for people looking to learn more about flexing their approach to communication and feedback. The eBook format is ideal for working in virtual situations, delivering a pdf direct to clients.
This exercise focuses on helping individuals to understand how their conversations impact on others, and how they can flex their type. The exercise works best for people who have already clarified their best-fit type. The exercise comes with example debrief questions for the facilitator to use, as well as typical responses from each of the preferences. 
Type exercise series – eBook.
Additional type material required: Flip a Type Tip (1 per participant) 

Applications:  Adapting and flexing communication style, Giving feedback, Working more effectively with others  

Type preference studied: Whole type
Time required : 25 Minutes (up to 90)