Thinking and Feeling: Beyond the golden rule exercise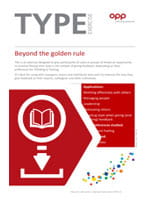 JT0927e
Thinking and Feeling: Beyond the golden rule exercise eBook
Type exercise: how to use the Thinking and Feeling preferences to understand different ways of providing feedback.
This interactive type exercise is particularly useful for managers, trainers or anyone who regularly gives feedback. The eBook format is ideal for working in virtual situations, delivering a pdf direct to clients.
This exercise uses the Thinking and Feeling preferences to focus on understanding how people give and receive feedback – groups work in pairs or trios to understand how preferences can improve feedback. The exercise comes with examples of typical responses from each preference, and includes additional tips for facilitators. The aim is to improve the overall impact of the feedback.
Type exercise series – eBook
Additional type material required: T and F posters (x1 of each)
 
Additional type material required: T/F poster 

Applications: Working effectively with others, Managing people, Leadership, Motivating others, Adapting style when giving feedback 

Type preference studied: T/F
Time requried: 40 - 45 minutes