Sensing and iNtuition, Judging and Perceiving: Type and Time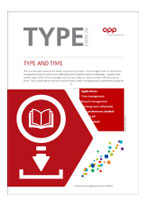 JT0924e
Sensing and iNtuition, Judging and Perceiving: Type and Time exercise eBook
Type exercise: how to use the Sensing and iNtuition and the Judging and Perceiving preferences (in combination) to learn different ways of managing time. This exercise is particularly useful for project teams when managing their expectations towards each other.
This is a two-part exercise for teams or groups of people. It encourages participants to share time-management tips to work more effectively both together and as individuals. The eBook format is ideal for working in virtual situations, delivering a pdf direct to clients.
The preference pair combinations of ST, SF, NT, and NF are used. The exercise comes with example debrief questions for the facilitator to use as well as typical responses from preference combinations. Also included is an action planning worksheet. 
Type exercise series – eBook.
Applications: time management, project management, working more effectively
Type preference studied: S/N, J/P
Time required: 45 minutes