Coach's Guide to the Leadership Report using FIRO-B and MBTI Instruments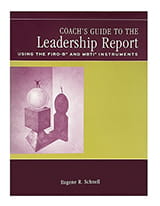 FI2621
Coach's Guide to Leadership Report using FIRO-B® and MBTI® Instruments
The essential resource to complement the Leadership Report using FIRO-B and MBTI
FIRO-B® and MBTI® instruments, when used in combination, provide deep insight into leadership style.
By using information from personality preferences and interpersonal needs, a compelling picture of the way these areas combine to help develop a leadership style emerges. 
This guide provides extensive information on the use of the FIRO-B® and MBTI® Leadership Report, and how this can be most effectively used in coaching engagements. 
It includes summary points about FIRO-B® and MBTI® type theory, offers tips on interpreting and presenting the results and a complete section-by-section explanation of the logic underlying the report, tips on avoiding potential problems and mistakes in interpretation, and when to emphasize certain sections of the report.