CPI Qualification
CPI® 260 Qualifying Programme
Executive recruitment and management development
The CPI® 260 personality assessment tool enables you to engage in strategic leadership selection, talent identification and management development at even the most senior levels, with tremendous depth of insight and analysis.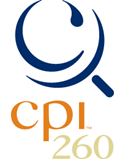 This personality training programme will equip you to use the CPI 260 personality assessment tool for personal and professional selection and development. Accurate and objective, the CPI 260 questionnaire provides an in-depth measure of professional and personal styles and offers a vibrant portrait of the individual as seen through the eyes of others. It is also the perfect business coaching tool.
3 days (Equivalent to ~25 CPD hours)
How to apply the CPI 260 tool in recruitment, management development and organisational development situations
The origin and development of the CPI 260 and how the tool measures personality traits in a unique and meaningful way
Effective ways of giving feedback and facilitating the development and self-awareness of your clients
The structure, psychometric properties and use of the CPI 260 personality trait tool
[The Myers-Briggs Company, formerly OPP] were very innovative and extremely flexible with regards to how we worked together. The consultants gave us lots of ideas, and understood our business and our challenges.
Alison Jorgensen, Head of L&D Business Advisors Team. DVLA
This workshop uses a varied, interactive approach to learning, with practical exercises, an engaging mix of group and individual work and written exercises to make the most of the learning opportunities available on the programme.

Acquire a validated and incisive tool that measures personality traits important for pre-employment assessment, employee selection and executive assessment
Increase knowledge of your own and others' work and leadership strengths through the CPI, an excellent self-awareness assessment tool
Understand how this personality trait tool can be used in leadership training and management development
Use the personality training to apply the CPI 260 for promotion and succession planning
No previous knowledge or experience of psychometrics needed
HR managers
Line managers
Team leaders
Career counsellors
Organisational development specialists
Filter by date:
Select courses starting between
Filter by location:
Calendar
Select courses starting between