People assessment solutions
People assessment solutions
An engaging assessment experience with reassuring fairness and rigour
The Myers-Briggs Company Consultancy designs and delivers fair and robust assessment solutions to identify talent and potential including in-depth executive assessment, high volume assessment, assessment centres and leadership assessment.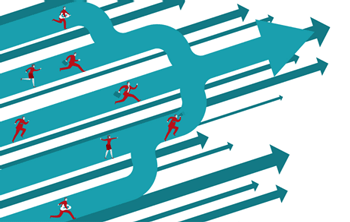 Every selection decision represents a risk. However, The Myers-Briggs Company's fair and rigorous approach to assessment enables you to select the people that will help drive your business forward with confidence. Our expertise in people assessment enables you to gain deeper insight into your candidates' competencies, personality, strengths and development needs, giving you all the evidence to make an informed hiring decision.
As selection is a two-way process we understand the importance of showcasing your company as an employer of choice. We carefully consider the candidates' experience at every stage, creating an engaging and professional selection process, ensuring they leave with a positive impression of your organisation regardless of the outcome.

Defining success - We work with you to understand your current business needs and what will be required in the future, bringing insight into the kind of recruits you need. We then design or align the assessment process to your key criteria for success. This enables you to select people who possess the behaviours and attributes that will drive your business forwards. We can also support you to validate your selection process so that you can measure its impact.

Evaluating people - Our consultants help you create a fair platform for candidates to demonstrate their capabilities and potential to you. We create engaging and accurate assessments by combining personality, ability and behavioural assessments to provide a detailed individual breakdown of strengths and development areas. Assessments and exercises can be selected from our existing portfolio or we can design them to meet your exact requirements.

Growing capability - We enable your organisation to achieve higher performance by ensuring you have the right people in the right roles. We help you to maintain the engagement of candidates whether successful or unsuccessful so that they leave with a positive impression of the process and have useful feedback to support their ongoing development. We can also coach and train your internal assessors so that you can become self-sufficient to run the assessment process.
We can support you at any point in the selection process to assess applicants in a range of ways:
Group or individual assessment centres – The Myers-Briggs Company offers a high-quality, bespoke design and delivery service, working with you to create an assessment centre that meets all of your recruitment needs. We are also regularly engaged by clients to deliver more personalised individual assessment processes which still incorporate all of these elements.
Leadership assessment – we use a range of robust assessment techniques to provide a deep understanding of your leaders' strengths, motivation, potential and development areas.
Volume assessment – we can help you screen out unsuitable candidates on the basis of intellectual agility using robust ability tests.